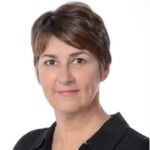 ABC News Radio's Cheri Preston was honored Saturday evening in the Twin Cities by the Midwest Broadcast Journalists Association with its Mitchell V. Charnley Award. The award, named for a highly-regarded University of Minnesota journalism professor and given to an individual who has made outstanding contributions to the field of broadcast journalism, was presented at the Midwest Journalism Conference on April 1, 2017.
Preston is an award-winning broadcaster who currently anchors hourly news and bottom-of-the hour updates on radio stations across the country for ABC News Radio. A breaking news veteran, she has been behind the microphone for some of the biggest stories of the past decade, including the invasion of Iraq, Superstorm Sandy, the capture of the Boston Marathon bombing suspect, and the Sandy Hook shootings. She is also host of the weekly features program "Perspective." Prior to joining ABC News, Preston was a part of the morning team at WTMJ Radio in Milwaukee. A native of the Midwest, she got her start as a newscaster and rock DJ at stations in Champaign and Carbondale, Illinois.
The Charnley Award was established in 1968. Each year it's given to an individual who works or has roots in the six-state MBJA region. Previous winners include nationally known broadcasters such as Eric Sevaried, Harry Reasoner, Michelle Norris, and Tom Brokaw.
The Midwest Broadcast Journalists Association serves the states of Minnesota, North and South Dakota, Wisconsin, Nebraska and Iowa.
© 2017, midwestjournalists.org. All rights reserved.