NOMINATIONS        PAST RECIPIENTS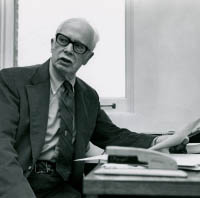 The Mitchell V. Charnley Award was established in 1968.  It is given each year to an individual working, or with roots, in the six-state Midwest Broadcast Journalists Association region, who has made outstanding contributions to the field of broadcast journalism.
Mitch Charnley was a teacher, an editor, a writer, a great friend, a quick wit, and a legend.  He was one of the founders of MBJA's predecessor organization, the Northwest Broadcast News Association and the model on which the Charnley Award is based.

Charnley was born in Goshen, Indiana on April 9, 1898.  He received his undergraduate degree from Williams College in 1919 and a Master's degree from the University of Washington in 1921.    He was a reporter for the Honolulu Star Bulletin, worked on the rewrite desk of the Detroit News and as an editor of American Boy Magazine and Short Stories Magazine.  He was a free-lance writer in Europe and Algeria.  He taught at Iowa State College before joining the University of Minnesota's school of journalism in 1934.  He stayed there three decades, retiring in June of 1966.

Charnley was often published in Journalism Quarterly, Quill, Columbia Journalism Review, and the Saturday Review of Literature.  He wrote three textbooks:  Reporting, News by Radio and Magazine Writing and Editing.  The four editions of his reporting textbook have been the primary "how-to" guides for generations of aspiring journalists.  In the preface of the fourth edition, he wrote, "Reporting is a craft, and it is an art.  And it is much more.  It is a principal instrument for building and holding firm the kind of society a democratic people want."

Charnley "kept current" on the practice of journalism and broadcasting by helping found WCCO Radio's first full-scale newsroom in 1943 and serving in the KSTP newsroom in 1952.  He received numerous journalism awards, including the 1963 Distinguished Achievement Award of the Radio Television News Directors Association and Sigma Delta Chi's Distinguished Teaching in Journalism Award.

Mitch Charnley passed away on February 16, 1991 at the age of 92.
Among his many students was Eric Sevareid, for whom our annual awards for excellence in journalism are named.



To nominate someone to receive the Mitchell V. Charnley Award, please fill out the Charnley nomination form and send it to the Association for review.

Previous winners of the Mitchell V. Charnley Award include:
2017 Cheri Preston

2016 Barbara Reyelts

2015 Ron Hull

2014 Martin Grindeland

2013 Jim Cullen
2012 Dean Borg
2011 Doug Lund
2010 Steve Murphy
2009 Dick Heidt
2008 Michele Norris

2007 James Paulson
2006 Brian Ross
2005 Al Aamodt
2004 Steve Hemmingsen
2003 Jill Geisler
2002 Ray Christensen
2001 Eric Sevareid
2000 Hattie Kauffman
1999 Marv Bossart
1998 Dick Chapman

1997 Tom Bier
1996 Tom Brokaw
1995 Henry Lippold
1994 Dick Record
1993 Susan Wiese
1992 Ron Handberg
1991 Stanley S. Hubbard
1990 Terry Anderson
1989 Bob Ryan
1988 Steve Murphy

1987 John Froyd
1986 William Krueger
1985 Edwin Newman
1984 Irving Fang
1983 Dave Moore
1982 E. W. "Easy" Ziebarth
1981 Phil Jones
1980 Curtis Beckmann
1979 Dewey Heggen
1978 Chuck Bundlie

1977 Jack Gennaro
1976 Gordy Kilgore
1975 Grant Price
1974 Norm Schrader
1973 Bob Jones
1972 Dick Petrik
1971 Sig Mickelson
1970 Jack Shelley
1969 Jim Bormann
1968 Harry Reasoner